Hey all! I'm sorry to have disappeared for so long. I do have a lot of knitting content to post, but things have been a bit crazy. Somebody is committing fraud on my account (writing large cheques to themselves, I'm not certain how they got the cheques) so its been taking most of my energy to deal with that for the past week.
So, since I have a plethora of photos to post, I thought I'd start with some of my Christmas knitting, now that its been given. I made five felted bags, based on the Sophie pattern, with modifications to each. They are all knit in Patons Classic Merino.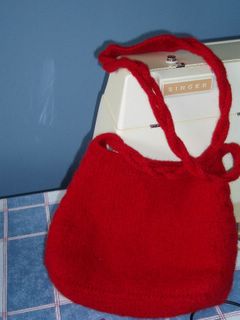 red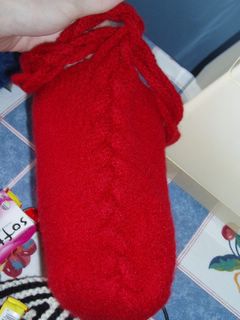 cable detail
I increased the size of the red, added the cable up the sides, and had three strands for the handle with a flat section where they meet in the middle (so I could continue the braid on each side).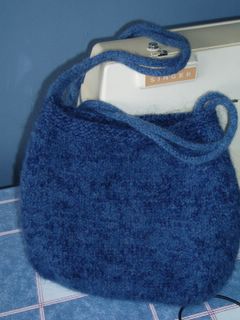 blue
This is the original size knit with one strand of mohair held with the wool. It didn't shrink as much during felting.
grey w/ eyelets
This bag has an eyelet pattern around the top, which is difficult to see in this photo but looks alright in person.
I made knit flower pins for the blue and grey out of white yarn from the stash. Sadly I forgot to photograph them before I came back to ON.
(Yes, I know there are only three pictures. I'll have to find the other three later.)