I got a package in the mail today, all the way from Cardiff!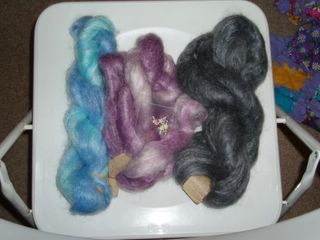 prize
This is the prize I won in the Knitting Olympics draws, generously donated by
Fyberspates
. I have 200g of laceweight mohair and fancy star stitch markers!
So, since I've never knit anything with laceweight anything, does anyone have any pattern suggestions for patterns? I have approximately 850 m of the grey and 450 m each of the purple and the blue.