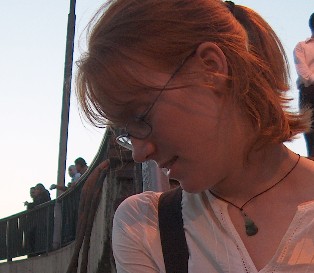 me...
I'm just having fun learning how to post photos. This seems to work pretty well. This picture was taken by my then-boyfriend just over a year ago when we were in Egypt. It was sunset, and I'm looking down at the Nile.
I'm not knitting a lot tonight... I was turning the heel on my
sockapal2za
sock and I ended up with stitches left on only one side, so I frogged the heel and did it again. Unfortunately, my hands are limited in their tolerance for knitting at a small gauge, and they are feeling somewhat claw-like today. (Not that typing is that much better). Anyway, what I should really be doing is cleaning/packing, but again it's getting late and I haven't done much. The friends helping me move are going to be in shock when they get here Sunday!