Lest you think I don't actually knit, I thought I'd post some pictures of actual knitting. I've started working on
samus
in Knitpicks Wool of the Andes in Stream.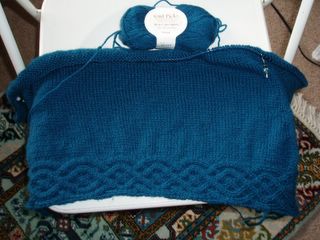 samus
I have finished the cable along the bottom and am now working my way up the body for the second or third time. Since I'm not using the yarn called for in the pattern and I decided to add a wee bit of shaping, I've had to rip out once or twice, but I decided it was worth getting it right. Especially if this turns out to be the first thing I make that fits me.
It's knit flat, so its long.
samus again
I have three Denise cords joined together so I can stretch it out to see how it will fit as I go. I'm using a size 10 needle (recommended size is 7 or 8) to get somewhere near the pattern gauge, but also because I like how the fabric drapes at that gauge.
In other news, I finally took pictures of some of my secret pal gift. You see why I loved this card?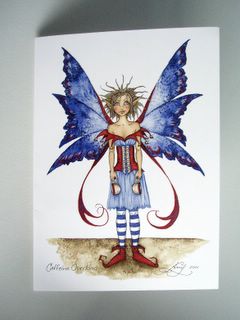 card from my secret pal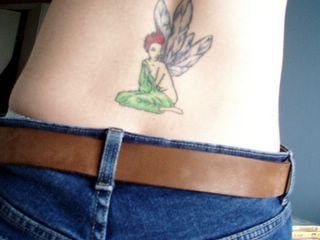 tattoo on my back
Side note: Yet another annoying thing with this camera. It was suprisingly difficult to get a picture of this tattoo. I know I'm so pale that I glow on occasion, but the camera wouldn't really focus on the tattoo. This is one of the few (of many) shots that was even close to being in focus. I only have a few more days to make a decision...